Tabasco Tom Rogerson
Bio
Tom Rogerson was born in Brooklyn New York and grew up out on Long Island. From alter boy to outlaw, Tabasco has played with just about anybody whose anybody (and a few who ain't) and has that easy down home manner women love and husbands hate.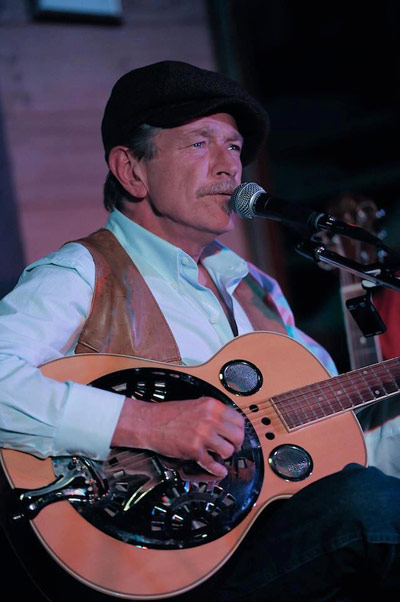 As a native New Yorker, in his early years, Tom was introduced to jazz and swing by his father who took him to see jazz greats like Dizzy Gillespie, Buddy Rich and Lionel Hampton & The Mills Brothers. Growing up not far from the city and Greenwich Village scene at Washington Square, and Bleeker Street, where folk blues and delta mingled together, gave Tom his direction. The influences of rockabilly, The Everly Brothers, Doc Watson's bluegrass pickin' and Mississippi John Hurt's finger style were all thrown in the mix. Tom developed his style which he calls "Eclectic Soup". You can hear these mixtures in his original material, which is a melting pot of country blues, folk and delta, mixed with a bit of swing. His covers carry on and keep alive the past greats from Louis "Satchmo" Armstrong, to the Delmore Brothers, Muddy Waters and a whole lot more.
The Name
Tom got his nickname "Tabasco" while he was working as a bartender, and playing music after his shift at a Cajun restaurant. When an obnoxious patron refused to extinguish his cigar after numerous requests. Tom lathered a heaping-helping of Tabasco sauce on the end of the cigar that was sitting in the ashtray, and quickly exited from behind the bar and got on stage. The boys in the band, (seeing what he had done) introduced him as Tabasco Tom. He's been wearing it ever since.
Tabasco Tom Rogerson keeps it traditional with his bright, clean, finger picking style, and slide on his resonator guitar, complimented by his rich, powerful voice.
Tom has shared the stage with Bonnie Raitt, John Hartford, Sarah Vaughan, Frank Vignola and Vinny Raniolo. Not to mention a host of Australian icons, including Broderick Smith from the Dingoes and Steve Williams from the John Farnham band.